Establishment of Blyth Bros. Pty. Ltd.
The business of Blyth Bros. was started in 1945 by Dan and Jock Blyth. Both brothers were builders who had experienced first-hand the shocking times of the Great Depression while living in Melbourne in the 1930's.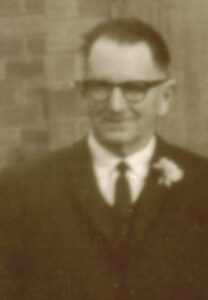 Dan married Agnes A'Hearn (Nes) in 1927. Jock was single. With very little capital and no building work available in the foreseeable future, Dan and Nes were unable to repay the bank's loan of fifty pounds on their home in Moonee Ponds. When the bank foreclosed,  Dan, Nes and Jock moved to what was then the country town of Boronia in Melbourne's East, buying a small home on four acres to make a fresh start.
The brothers worked both locally and in Melbourne as builders when work became available and spent their spare time breeding poultry and growing flowers and vegetables. In 1945 they purchased a seven acre block close by to concentrate on growing vegetables and flowers, so laying the foundation stone for the business of Blyth Bros.
Using their skills as builders – Dan (the carpenter) and Jock (the bricklayer) built a new home on the seven acre block which was completed in 1948. This became a very happy home for Dan and his family for years to come.
As a young schoolboy, Dan's son (John) loved helping his father and Uncle Jock on the farm. On leaving school and joining them John soon realised he enjoyed growing flowers and discovered a love of Daffodils (a flower they had not previously grown). In 1956 when the suburban sprawl began to spread around the family and farmland became housing estates, the family was lucky enough to obtain two good stocks of daffodil bulbs from growers giving up farming. This good fortune set us on the path to becoming successful daffodil growers well into the future.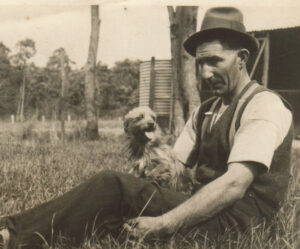 Jock died in 1963 after a long illness. Jock had a very jovial personality and was sadly missed by his family and friends.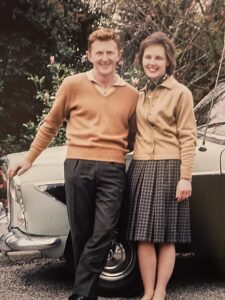 John married Robin Parkes in 1964 and they had three sons, Peter (1965), Nick (1968) and David (1970).






John & Robin (1964)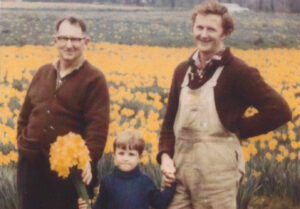 The 1980's saw the dawning of a new era for the Blyth family. Peter came home from school to work with his father on the farm, Nick changed his direction in life commencing a flower growing apprenticeship rather than be an accountant as planned, and David began a Bachelor of Applied Science course at Burnley Horticultural College. It soon became evident that a larger farm would be needed to provide for an expanding family.
Land was selected in the beautiful Ellinbank area in West Gippsland and the bulb stock was moved, a new family home and shedding were built and a herd of stud Angus cattle was established. The cattle graze the pasture as a rotational crop to improve the soil after bulb growing.
In the early days Dan sold his flowers and vegetables at the old Queen Victoria Market in Melbourne and later had a retail stall where the family successfully sold flowers to the public for several years. The Melbourne Market was later moved to Footscray and more recently to Epping where Nick is the third generation of the Blyth family to sell flowers at the market since Dan began in 1945.
Today the business continues to grow under the guidance of Peter, Nick and David. The three brothers work well together, their combined skills make a very talented team. Amongst their responsibilities, Peter manages bulb growing and the cattle on the farm, Nick manages the flower sales and keeps the tractors and machinery running smoothly and David manages the bulb sales and the Administration.
As a family we look forward to producing high quality Daffodil flowers and bulbs for the enjoyment of the Australian public for many years to come.